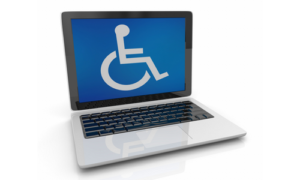 ADA website compliance applies to the Americans with Disabilities Act Standards for Accessible Design.  ADA is primarily known for its application within the world of architecture and physical facilities.  It is now being applied to the digital information world.  It requires that all electronic information and technology—i.e., your website—must be accessible to those with disabilities.
Persons with disabilities are not currently able to engage fully with websites or Apps that are not compliant.  They are thus not able to participate in many aspects of today's society.  Today, stores, services, educational institutions, and even health care and employment have all moved to an online presence. While brick-and-mortar businesses recognize their duty to provide equal access to their facility to individuals with disabilities, the online world has been slow to catch up.
ADA compliance is the law and is required.  Plus,  you may be missing over 26% of the prospects available for your business.
According to the CDC, over 26% of Americans have some type of disability.  What if your company welcomed these prospects into your online storefront?  Could you increase your sales?  Would your business reputation improve by demonstrating digital inclusiveness?
It is not only about reaching these potential customers, it is protection for your business. Be aware that Demand Letters and Lawsuits are flying.
The majority of the Internet Top 500 list have received Demand Letters in the past 4 years.  They have now put accessibility programs in place.
Many smaller companies, especially ones with e-Commerce websites, are now being targeted with Demand Letters.  These letters while often legitimate, may also simply be a way for someone to extort money from your business in the $5K-$20K range.
Lawsuits have been on the rise for several years.  While currently more prevalent in California, New York, and Florida; Texas has seen a sharp rise in cases in recent years.
The good news is that this is fixable and protection from these adverse consequences is attainable by bringing your website up to WCAG ~ Web Content Accessibility Guideline standards.
WCAG is a series of rules published by the Web Accessibility Initiative, part of the W3C – the primary organization behind the international standard for the internet.  WCAG 2.1 is the current release of these standards.  Complying with them is imperative to protect your business from lawsuits surrounding ADA title III violations.
How do you know if your website is compliant?
We offer a FREE Website Accessibility Audit.  This report will tell you and your web developer what is and is not compliant about your website.  Armed with the knowledge from the report you can go about the task of having the website repaired and made compliant.
Or you can install our automatic system to bring your website into compliance with the WCAG and keep it fixed.
Our system can have all of the basic accessibility issues with your website fixed in 48 hours.
Your business will be provided with the legally required accessibility statement.
Our system will also recheck and fix your website every month!